Private Vacation Home Rental in Rogers, KY
Misty Mountain is ready to be your private rental home away from home! Our clean, spacious vacation rental serving Rogers and Pine Ridge, KY has six bedrooms, a fully-equipped kitchen and all the amenities and activities you could desire, plus a breathtaking view overlooking Muir Valley. We look forward to welcoming you soon!
Revive Your Spirit at Our Family Vacation Home Rental
In the hustle and bustle of modern life, it can be easy to get lost in your list of daily responsibilities. Between work, kids, meetings, household repairs and everything else that goes into keeping your family afloat, it can sometimes prove challenging to just relax and connect with the people in your home.
Everyone deserves a break from time to time. When you're ready to get away from it all, it's time to spend a few days at Misty Mountain, our peaceful vacation rental home in Rogers, KY. Our secluded sanctuary has everything you need to take a breather and get back in touch with the people you love. Surrounded by lush Kentucky woodland and overlooking the Muir Valley Nature Preserve and Climbing Area, ours is a spot that's sure to help you relax and live in the moment.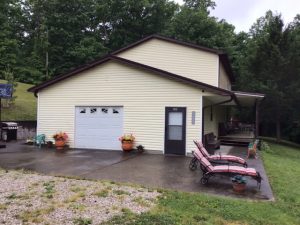 Get cozy as you relax in your temporary home away from home.
Whether you're a nature seeker looking to take advantage of the splendor of rural Kentucky, a honeymooning couple with an eye on a few days of together time or you just want to spend some uninterrupted time with your favorite people, Misty Mountain will deliver. You deserve a break from the hectic outside world. Let us help you get it!
We're a six-bedroom vacation rental overlooking the scenic Muir Valley.
Our secluded location is the perfect place for a honeymoon or family vacation destination.
We take pride in the cleanliness of our property and its many modern amenities.
Explore the lush Kentucky woodland surroundings during the day.
Schedule Your Stay Today
It's easy to book this beautiful Rogers private rental home. Just visit our contact page or pick up the phone and call our Rogers private vacation home today!
Welcoming families, groups, and travelers from all over the U.S.!
BOOK NOW